St Mary le Wigford is home to a charity whose roots date back to the generosity of Edward de Chambour in 1506. Over the generations people have contributed to this fund for Relief in Need.
In 2010 the Charity supported BeAttitude, and allowed them to use the church hall as a centre to support the marginalised and homeless and which in 2014 served 17,113 meals to them as well as providing pastoral and practical support.
New procedures in the City and the unsuitability of this ancient building for that task led to the closure of BeAttitude in 2015, but St Mary le Wigford's Relief in Need Charity still offers support to individuals, especially to the migrant workers who come to Lincolnshire to work in our thriving, but seasonal, agricultural industry.
Our Charity is currently looking at refocussing our activities and will be interested to hear from anyone with experience in accountancy or housing and who may be interested in serving as a Trustee.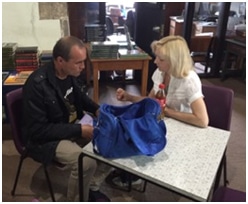 This church is responsible for a Charity that dates back to the generosity of Edward de Chambour in 1506 (which we believe makes it the oldest charity in Lincoln) and which has been added to over the years by many generous patrons. The aims of the charity are quite broadly drawn which has allowed us to respond creatively when people find themselves unable to find help elsewhere from public bodies or other charities.
For example, in 2010, we were able to support a Diocesan initiative working among the homeless in Lincoln, called BeAttitude, to provide a Day Shelter to compliment the Nomad Trust's excellent work at their Emergency Night Shelter. By 2014 this had grown to have supported over 1,500 people and which served 17,113 meals to homeless and marginalised people in that year. In 2015 new publically funded systems to manage homelessness in Lincoln were introduced and BeAttitude closed.
Since then St Mary le Wigford's Relief in Need Charity has continued to offer support to individuals whose situation denies them help from statutory bodies or other Charities. The nature of this support is usually low key and we respect the privacy of the individuals so giving details of what we do is not easy. However, we have permission to illustrate our work with the following example.
Linardas was born in 1967 on the Baltic coast of Lithuania when it was a part of the Soviet Union. When Lithuania joined the EU Linardas, like many others, came to the UK in search of better paid work. It was not easy as the work could be seasonal and what seemed like a good wage at home did not go so far in the UK. Getting secure accommodation was a challenge and he spent several periods when he was homeless. As a young man he had been conscripted into the Soviet Army and served in Afghanistan so he was resourceful, but it was hard.
At the end of 2015 he became seriously ill and was admitted to hospital for six months for several operations. He lost his accommodation and most of his possessions whilst there. As he had no access to public funds, being unable to work, the Resettlement Team at the County Hospital contacted us, but with no right to remain in this country we could not get the statutory authorities and charities responsible for the homeless to offer him accommodation before he was discharged onto the streets. After a couple of days, he turned up at the church where the wound from his colostomy was already infected.
From that point we cared for him getting him back to hospital to control the infection. Once he was discharged again our Relief in Need Charity paid for accommodation as his medical condition made it impossible for him to stay at Nomad's Emergency Shelter. We worked with the UKBA to facilitate his return flight and provided him with fresh clothes and even Euros and current details of bus timings and prices for his trip home from the airport where his family awaited him.
Linardas is not the first migrant worker we have helped and we have even paid for a mother to come from Poland and stay near the hospital where her son's life hung by a thread. He lived and we were happy to send him home with a substantial support package for him and the family to help them with his disability. Nor do we only help migrant workers as most people we support are UK nationals.
Like St Mary le Wigford church itself, our charity is refocussing to serve the needs of Lincoln and its people in the 21st Century and just as we will welcome any applications for support we will welcome any offers of support especially from people with professional skills such as accountancy or the law as we prayerfully discern God's will for this ancient charity in this generation.